PLAY GRID Company
Join today a new gaming experience at http://playongrid.com
Who are we?
We are a young team who has desires, dreams and we want to make some huge realizations and this is why we started that project.
We want you to understand that we will give everything that's best from us , we will sacrifice everything to make things work as good and smooth as possible.
We really enjoy doing this job, even if its hard to satisfy everyone.
Even if we can say the team is young, our history is old and our principles too.
Our main activities are:
* Activities of web portals, database, administration of web pages and other activities 
* Hosting of website pages , servers and running of bases 
* Maintenance and services for software issues 
* Activities for informatics/technology services 
* Management activities (management and explanation) of the calculating resources. 
* Activities for creating software's at delivery (software for customers) 
* Other activities about the technology of information
Future plans ?
We developed a Plan for Our Future which sets the foundations for improvements across PlayOnGrid
There are five key objectives under the Plan:
* to release more and more games .Our first game will be SRO Online the game will be Metin2 , follow by Cabal Online and a many more others.
* improving our relationship with our customers
* aligning our structures, systems and processes with our vision
* delivering services more efficiently
* making sure the business can adapt quickly to change and innovation.
PlayOnGrid
will remain focused on delivering excellent customer service and priority outcomes for the community as we implement changes under the Plan.
About our first game that will be released .
Our first game that will be relesed will be SRO Online.
Game Rates : * SP and EXP Rate :
x40
( To feel the level experience like a true gamer )
* Party Exp Rate :
x48
( To enjoy playing with your friends )
* Gold Rate :
x5
( To make the players obtain gold from other sources like trading )
* Item Drop Rate :
x30
( So it will not be to easy or to hard )
* Trade Rate :
x80
( In order to give you a better and more exciting experience we have increased the rate of the trade to encourage multiplayer content )
* Alchemy Rate :
x1
( To challenge you to be the best of the best )
* Maxim Degree :
13 Degree
* Level Cap :
125
Starter Pack :*
5 100 % Speed Potions
*
5 Resurrect Scrolls
*
5 Return Scrolls
*
3 Day Grab Pet
*
10 Pegasus
*
1 Dimension Hole for 7 Degree and 1 8 Degree
*
1000 HP & MP Potions
*
1 Magic Pop Card
Fortress War :
All 4 fortress are enabled and working 100% and the fortress war will take place every Saturday at 19:00 Server Time.
Forgotten World :
All the dungeons work starting with 7 Degree up to 11 Degree you can enter from the minimum level required to the maxium level of 125 in all of the dungeons.
Jupiter Temple :
Is working and is scripted like it should be intended to work. You can find all the Uniques inside.
And much more!
Official LinksWebsite:
Play On Grid Official Homepage
Registration:
Registration Page
Download:
Download Page
Facebook :
Official Facebook Page
Forum :
Play On Grid Forum
Screen ShotsFully Scripted and Working Jupiter Temple .
Spoiler:
Arabian Map Working .
Spoiler:
Working Job Rankings .
Spoiler:
Spoiler:
Spoiler:
New fellow pets .
Spoiler:
Custom scrolls .
Spoiler:
Custom Arena Item Manager Items .
Spoiler:
Custom Coin Change System .
Spoiler:
Spoiler:
Spoiler:
Video
Regards,
PlayOnGrid Team
New Pog System - Free Pogs in Game

We have prepared a surprise for you starting with today 17th June(12 AM GMT+2)you will start receiving free 1 POG for each 3 hours you are online in game . 
Example : If you online 12 hours you will get 4 POG .
NOTE : Please Pay Attention : The POGS in game you will get in the moment when you will relog !

Also , for the most active player of each month we have a surprise ( You can win one of the following prizes : Special title with 50 % Berzerk or Premium or Fun Points or Other prizes ) 

Most active means :
•Participation at Events
•Doing Trades
•Helping new players
•Participating in the Fortress War
•Going to Arena Battles
•Going to Forgotten World
•Going to Holy Water Temple
•Doing Job Activitys
•Upgrade Items
•Going to Jupiter Temple
•Making PvP

The title of "God Of Phoenix" you will be able to keep it just in the month that you were declare the MOST ACTIVE PLAYER !

We hope you will enjoy this event and also please remember that this is not a limited event it is a permanent one .

Regards,
PlayOnGrid Team
Check out the new website design and futures that we have , we hope you enjoy it .
Also check our forums for the newest events that we made!
And our newest video !

Phoenix Update.Like we already promise you i come with some good news about the update . 
We establish a date and that will be on : 4 August at 14:00 Pm Server Time
The changes that will be made on Phoenix Realm will be : *
We will change the rates . From low rates we will make mid rates like you can see on the next image :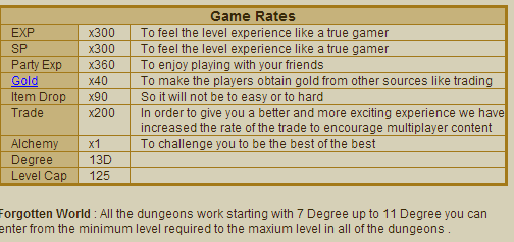 *
We changed the level on Forgotten World in 2* , 3* and 4* in order to get better drop (especially Egy b drop that was also increased);
*
We added grains on Forgotten World and Jupiter Temple;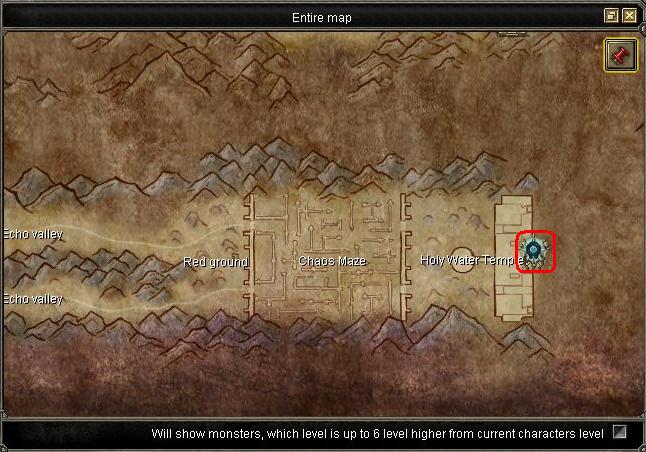 *
We added Devil S in Item Mall Tradable;
*
We reduce prices on Item Mall at Advance Elixir B and on custom Titles ;
*
We added new titles on Item Mall;
*
We added extra pages for the pick pet like u can see on the next image:
*
There will be some modification on trades  : more profit on trades and also every week we will reward the most active players on job activity :
*
We added a special Lucky Power ( which has a chanse double that the one that exist on the server at the moment ) . You will be able to find it on Jupiter Temple and Forgotten World ;
*
We will add new job suits ;
*
In the day of update we will reset the Fortress War and we will let opened only Hotan Fortress in order to make more activity on the server  . In the future we will be able to open again the other Fortresses when we will have more players ;
*
You will find on the npc PlayOnGrid Shop , in every town , near the storage . 
*
You will be able to use the coins system that you will find on the npc PlayOnGrid Shop , in every town , near the storage ;
You are able to get Accessories 13D from PlayOnGrid Shop with : arena coins , gold coins , silver coins , copper coins and iron coins ;
*
You will be able to find gold coins , iron coins , silver coins and copper coins in Water Temple and in Job Temple ;
*
The beginner pack for new players will be more attractive :
*
In order to try to balance the races (European and Chinese) we added Silkroad R Skills ;
Events that will start immediately after the update : Happy Event .
This event procedure is to kill mobs from all over the map and to try to reach all the letters from the word Happy . After you made the word you will have to go to So-Ok Npc and can random rewards . 
Avatar week .
During a week you will be able to buy any old avatar that already was on the item mall until the respective date . A new thread where u will be able to see all the avatars will be posted soon . The avatars will have the same price like were on item mall . 
Promotion on  Buying credits  .
Were you will receive 50% more fun points during 3 days : from 4th August 16:00 GMT +2 till 7th August 16:00 GMT +2
Random events .
Made by Admins , GM's and Test Gm's like : Guild War , Pvp , Trade Events and more !
A series of event's will start on Phoenix starting with 1st of September .

: 
More Info Here

: 
More Info Here


Similar topics
---
Permissions in this forum:
You
cannot
reply to topics in this forum